NOW THROUGH NOV. 9! Get a 3% bonus in Stampin' Rewards for product orders of $300 or more.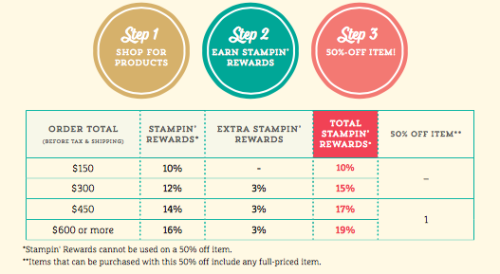 For example, on a $300 order you'll get $45 in your choice of FREE product or exclusive Stampin' Rewards products. That's 15% ($45) vs. 12% ($36). This offer is available on qualifying individual on-line orders, too! Get your list ready and go shopping to get even more products that you love.
Save up to 30% on even more
Weekly Deals
(discounts available in limited quantities before the items return to retail prices)
.
Take advantage of this additional ways to save on Stampin' Up!:
Bundle Up
. Check out the 15% savings on these coordinating products.